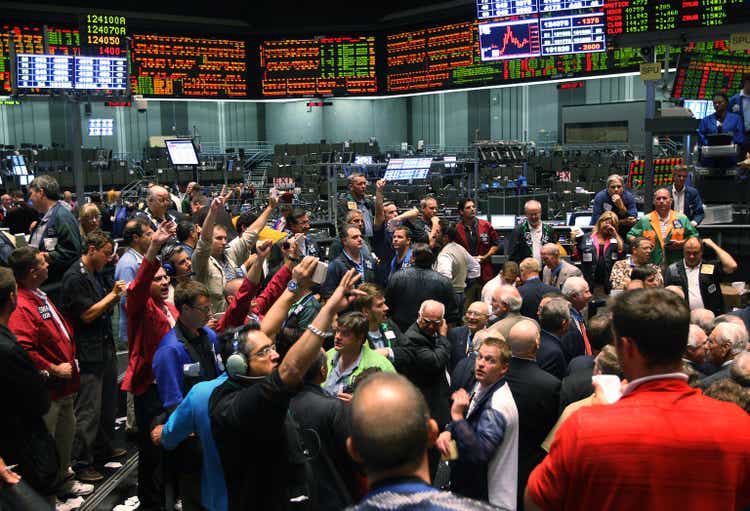 A time-worn adage in finance says "markets hate uncertainty," which could just as easily apply to exchanges. Uncertainty has certainly rattled investors in 2022, prompting them to pull back from a range of asset classes, including equities, bonds, and cryptocurrencies.
As a result, volumes on exchanges have declined in the first half of the year. BofA Securities analyst Craig Siegenthaler sees that continuing. "With the exception of rates, we think volumes broadly have further to fall," he wrote in a note to clients recently.
He expects macroeconomic uncertainty regarding inflation, monetary policy and geopolitics to stabilize in H2 2022, and eventually improve as inflation recedes. "This thesis has driven our slightly more cautious stance on the exchange stocks as the peak 'risk-off' moment has already passed," Siegenthaler said.
To be sure, retail investing surged to dizzying heights during the pandemic as consumers received economic impact checks and extra time on their hands as they worked from home and sports and other forms of entertainment halted early in the pandemic. Now, that activity is moderating as pandemic relief programs have expired and inflation eats into discretionary funds.
Analysts have been reducing their expectations for quarterly EPS estimates for Nasdaq (NASDAQ:NDAQ) and Intercontinental Exchange (NYSE:ICE) for the next three quarters as seen in this chart.
Quarterly EPS estimate revisions
(change over three months)
NDAQ
ICE
CME
CBOE
TW
Q2
-1.27%
-5.86%
1.10%
7.21%
-0.16%
Q3
-1.17%
-6.40%
0.14%
0.87%
0.23%
Q4
-1.52%
-6.16%
0.28%
-0.64%
0.20%

EPS consensus estimates (as of July 15)

NDAQ
ICE
CME
CBOE
TW
Q2
1.67
1.27
1.93
1.67
0.46
Q3
1.51
1.3
1.95
1.51
0.46
Q4
1.54
1.32
1.95
1.54
0.47
Siegenthaler remains positive on Nasdaq (NDAQ) and Tradeweb Markets (NASDAQ:TW) on "stronger embedded growth drivers." He rates ICE as Neutral and CME Group (NASDAQ:CME) as Underperform. Cboe Global Markets (BATS:CBOE) isn't rated under BofA's exchanges coverage.
The analyst discusses volumes, by asset class — cash equities, equity derivatives, energy, and agricultural & metals:
In cash equities, total U.S. volume is down 16% W/W and down 15% Q3 to date. Volatility is starting to subside, and that's also bad news for exchanges as volume fluctuates with volatility. The CBOE Volatility Index, also known as the fear index, was down to 24.56 on Friday afternoon, down from as high as 38.94 on Jan. 24.

In equity derivatives total single-stock options volumes are down 4% W/W and down 12% QTD. "With life mostly back to normal, we believe options/futures trading is also reverting back to more normal volumes," Siegenthaler said.

Rates: "On a W/W basis, volumes were mostly normalizing down after recession fears, the Nord Stream pipeline shutdown, and ECB inflation data strong strong volumes" the previous week, he wrote.

Energy: Siegenthaler expects that Q1 2022 was a cyclical peak but expects energy volumes to stay high on an absolute basis throughout the rest of 2022. "We note that fossil fuel inventories and spare production capacity are at multi-year lows globally, meaning that the market has essentially no volatility buffer," he said.

Agriculture & Metals: For ICE, ag/metals volumes rose 18% W/W and CME's ag/metal volumes fell 18% W/W. For Q3-to-date, ICE's ag/metals volume fell 19% and CME's rose 14%. CME benefited from its larger share of the biofuels volume as ag volumes reflect those of oil due to biofuels, Siegenthalaer said.
Last month, Wolfe Research mapped out a stock market bottom checklist.